This article may contain compensated links, please read our disclaimer for more information.
Roadschooling families are always on the lookout for awesome ways to learn while having fun and traveling. One of the best ways to go about this? Living history museums. 
While they aren't as common as science centers or zoos, living history museums can be found all across the country. They are unique in that they make history come alive. Costumed interpreters use props and historic buildings (or recreations) to act out day-to-day life in a certain area and time period. Guests are often encouraged to participate in chores, games, and other activities, giving kids a hands-on history lesson they won't soon forget. 
Wondering where to go to find living history museums? That's why we're here today! While there are dozens of excellent choices all over the country, we've hand-picked the top 7 living history museums in the United States and listed them below. Don your best colonial dress or pioneer costume and choose one of these amazing attractions for your first journey into the past.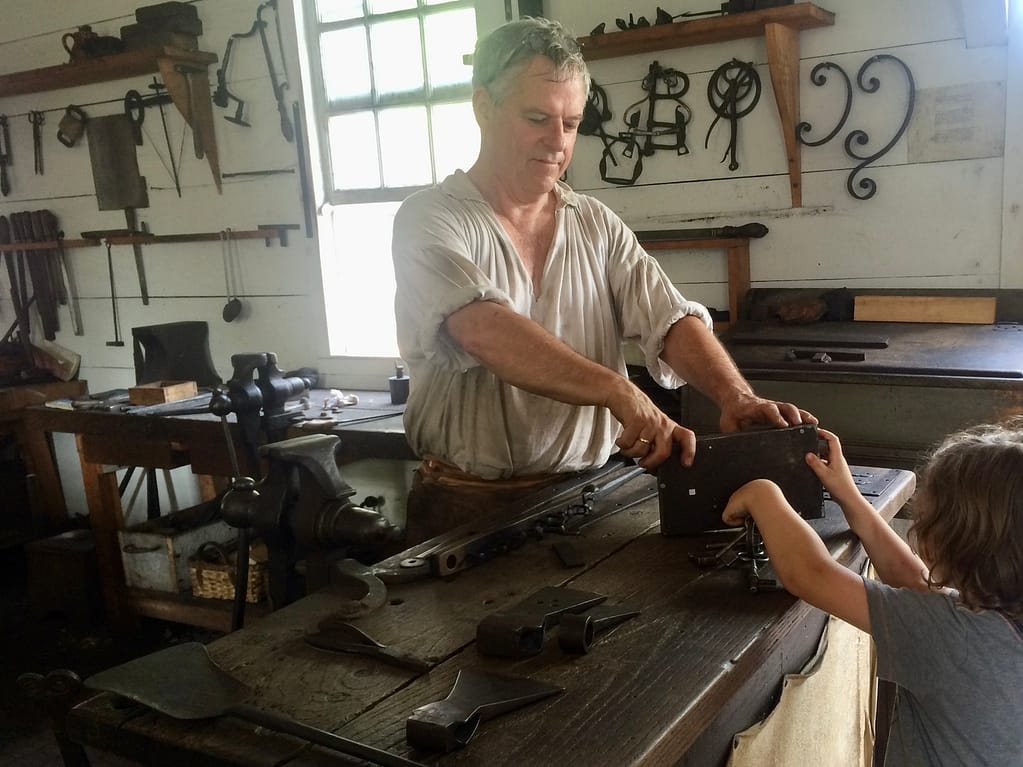 Colonial Williamsburg
Williamsburg, VA
First on our list is Colonial Williamsburg. This is probably the most well-known of these museums, and it is a good one for sure. The museum features an entire mid-to-late eighteenth century town, and in nearly every building there is a costumed interpreter ready to share their knowledge. 
Here you'll find a courthouse where you can witness trials just as they would have gone during the time period, as well as a coffeehouse where you can try coffee and chocolate drinks from the time. There are a wide variety of tradesmen that are happy to demonstrate their craft, and a few homes that you can wander through. 
Note: For more living history experiences in this area, be sure to visit Jamestown Settlement, Yorktown Battlefield National Historical Park, and the American Revolution Museum at Yorktown.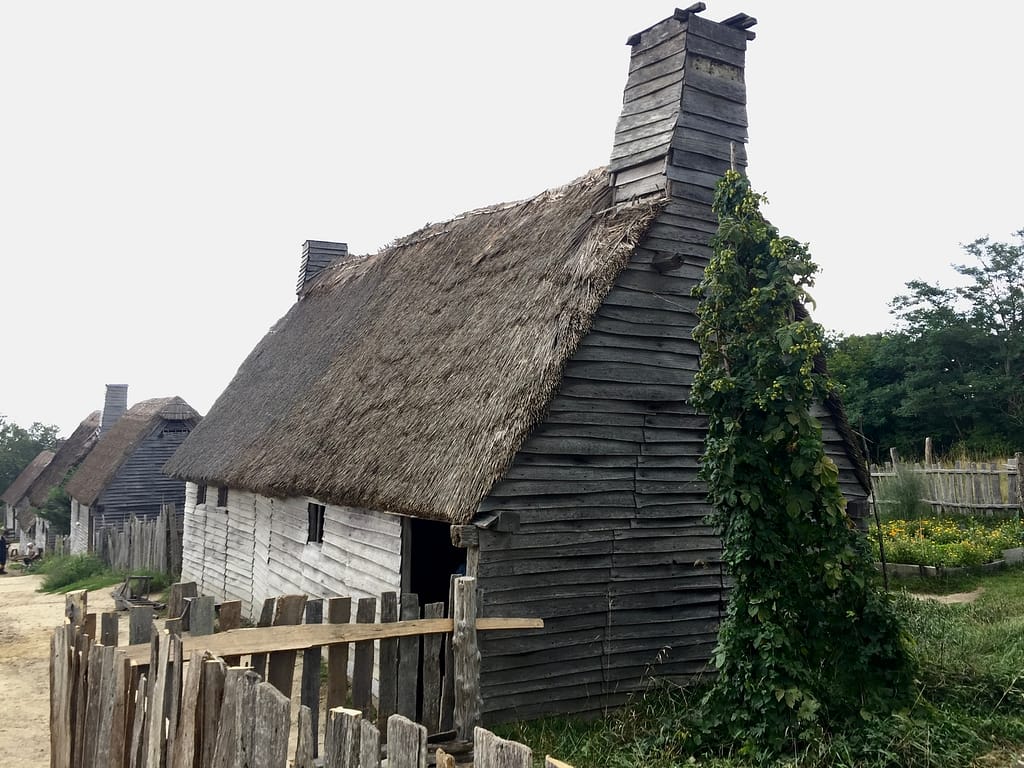 Plimoth Patuxet Museums
Plymouth, MA
Plimoth Patuxet Museums (formerly known as Plimoth Plantation) might just be our favorite living history museum ever!
This incredible place features Historic Patuxet, where you can step into a 17th century Wampanoag village and learn about their way of life. We loved that this area was staffed by actual Wampanoag people, who were 100% dedicated to preserving the culture and history of the tribe. 
After visiting the Wampanoag village, you come to the 17th century English settlement. This is a recreation of the settlement created by the pilgrims who landed at Plymouth in the 1600s, and it is incredibly well done. Our favorite part about this area was that each interpreter was given a real individual from the original village to portray. This they did perfectly, never breaking character. 
During our visit, Mayflower II was not at the museum, but it is now, as is the Plymouth Grist Mill, which we did not get an opportunity to see.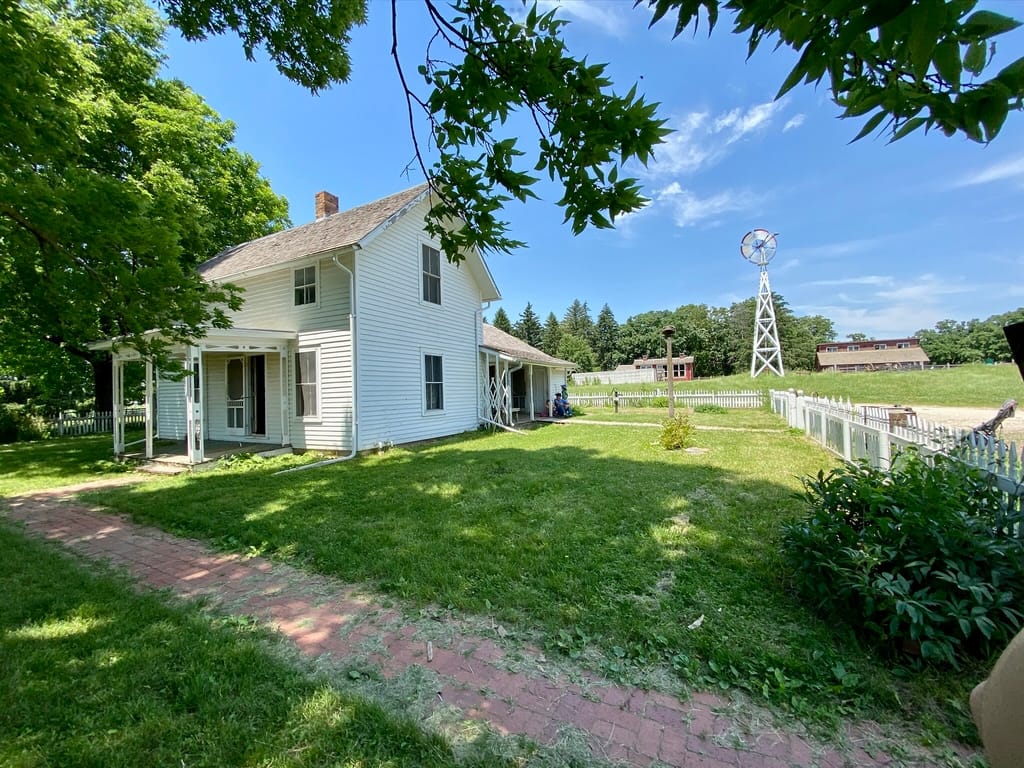 Living History Farms
Urbandale, IA
Living History Farms is a bit different in that it focuses very specifically on farm life throughout the history of the United States. The museum plays host to three working historic farms: a 1700 Ioway Indian farm, an 1850 pioneer farm, and a 1900 horse-powered farm. Each farm is unique, and it is quite interesting to see farming evolve from one time period to the next. 
The museum is also home to the 1876 town of Walnut Hill. This area is a lot like other living history museums and features a variety of craftsmen who demonstrate their work to guests. We had an especially fun time chatting with the lady running the general store, as well as the druggist who shared many fascinating facts about the history of medicine.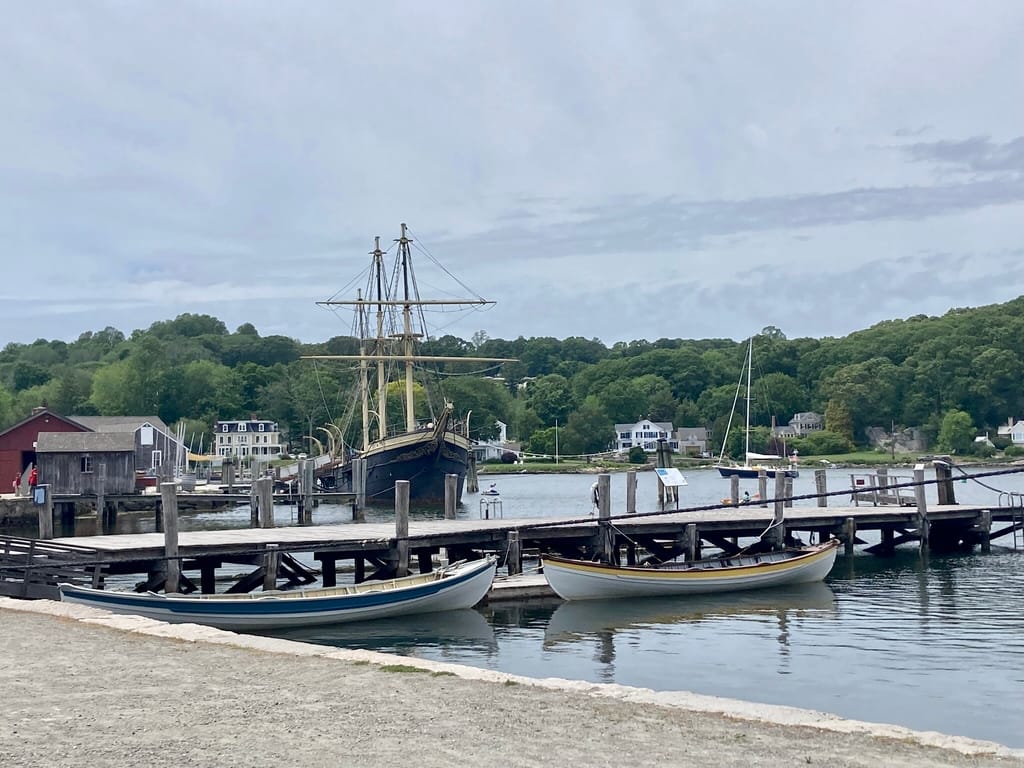 Mystic Seaport Museum
Mystic, CT
While Mystic Seaport did not quite live up to our expectations—perhaps it was merely an off day—I do still feel it deserves a spot on this list. The museum focuses on the history of port towns and includes an entire recreated seaport village, as well as several historic ship recreations.
We especially loved the shipyard where you could see ships being worked on, but found many other unique living history experiences as well. There was a home that focused entirely on the subject of prohibition, which was quite interesting, and touring the ships was a memorable experience as well. 
In addition to the living history portion, this museum also offers several indoor exhibits. There was an entire building focused on the history of whaling that was absolutely fascinating, and the kids loved the buildings dedicated to them.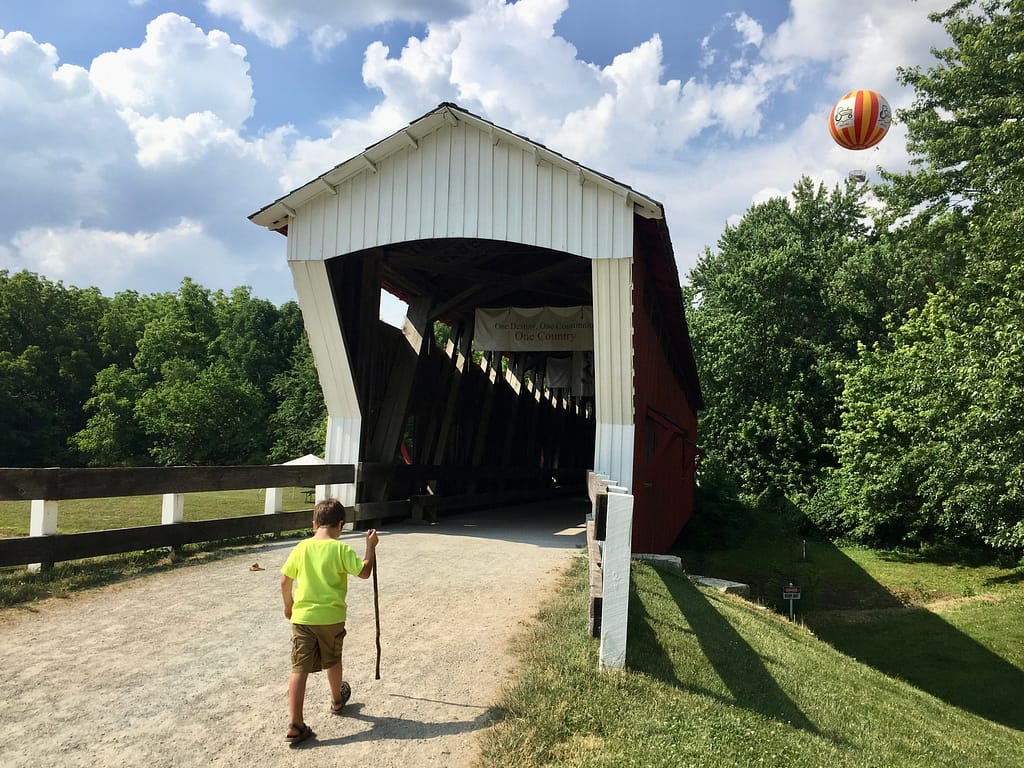 Conner Prairie
Fishers, IN
Conner Prairie is one of the most varied living history museums out there. This one has a little bit of everything, meaning the whole family is likely to enjoy it. 
We started our visit with the indoor exhibits, which were fine but nothing special really, at least if you've been to loads of museums before. The real fun started once we got outside and saw the hot air balloon. We didn't pay to ride it, but we loved reading about the history of flight in the exhibit there. 
The Lenape Village was small but very well done, and featured a wonderfully enthusiastic interpreter. We enjoyed the farm animals in the barn at the Conner Home, and the Prairie town offered plenty of interpreters who were happy to include guests in their day-to-day chores and errands. Lastly, the 1863 Civil War Journey was interesting in that it featured a more staged—but no less valuable—living history presentation. 
Conner Prairie also features a super cool play area for kids, and we highly recommend leaving some time for that if you have younger kids in tow.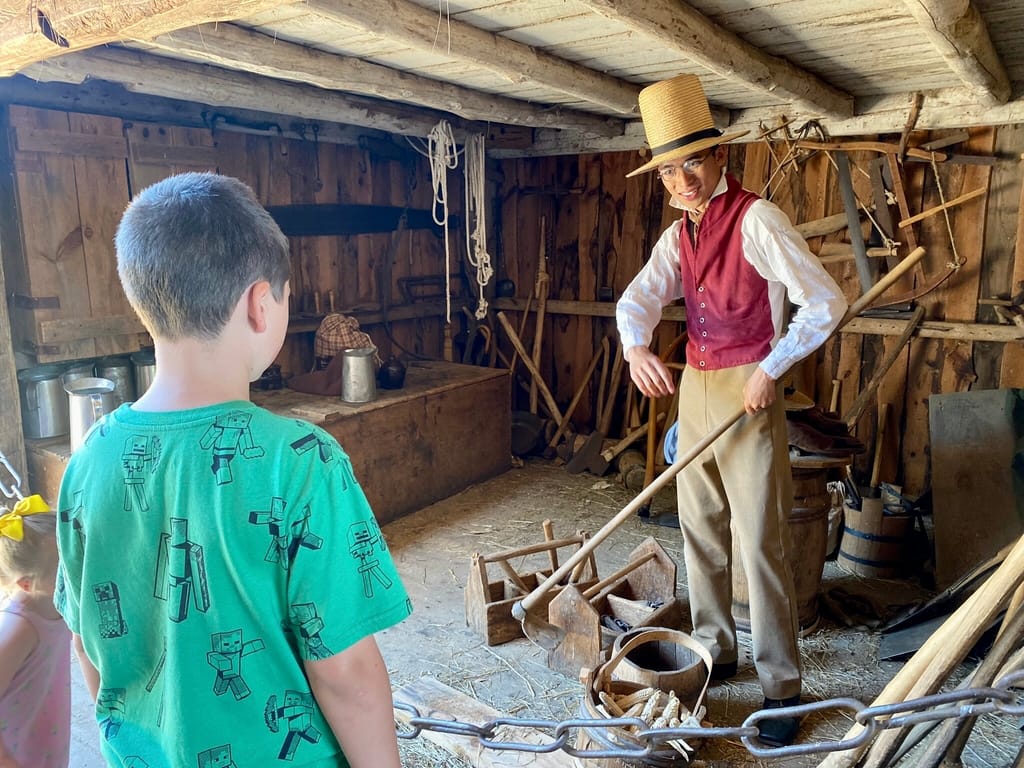 Old Sturbridge Village
Sturbridge, MA
If hands-on and interactive experiences are your thing, Old Sturbridge Village is the place for you! 
This open-air living history museum depicts an 1830s rural New England town and does a beautiful job of it. The town features a wide variety of buildings, but the real star of the show here is the collection of interactive and hands-on activities and presentations that happen throughout the day. 
There are buggy rides, games on the lawn, crafts, storytelling sessions, and more. We interacted with animals, chatted with the village midwife, and even played a hurdy gurdy. We appreciated that these scheduled and planned interactions made it easier for the less outgoing members of our family to participate. 
Greenfield Village
Dearborn, MI
Part of the amazing Henry Ford museum complex, Greenfield Village is another excellent place to immerse yourself in history. Like Conner Prairie, Greenfield Village is a hodgepodge of moments in history, which makes it that much more engaging. 
The working farms show guests what life would have been like on the farms of the 1800s. Meanwhile, Liberty Craftworks lets visitors peek at working craftsmen carrying out jobs such as blacksmithing and weaving. The Porches and Parlors section allows you to walk through a number of historic homes, and Railroad Junction features a super cool working turntable that kids can help move. 
One of our favorite areas was Main Street, where we watched a couple of performances, visited the Wright Bicycle Shop, and checked out the Scotch Settlement School. We also very much appreciated the Edison at Work area where we could walk through Thomas Edison's lab and listen to an interpreter give a talk as Edison himself. Lastly, we must mention the "Henry Ford's Model T" section where we learned about the life of Mr. Ford.
As you can see, there are a number of amazing living history museums to choose from, and we encourage you to visit as many as you possibly can as you roadschool your way across the USA.
Join Fulltime Families
Fulltime Families Members get access to the best resources, community and discounts.
Fulltime Families is a participant in the Amazon Services LLC Associates Program, an affiliate advertising program designed to provide a means for sites to earn advertising fees by advertising and linking to amazon.com, amazon.co.uk, amazon.ca. Amazon and the Amazon logo are trademarks of Amazon.com, Inc. or its affiliates.
Source: The 7 Best Living History Museums to Visit in Your RV