Weaver's Needle RV Resort situates travelers close to renowned Arizona attractions. Within view of the park lies the famous Superstitious Mountains, shrouded in legend and known for great hiking. Closer to the 55-plus resort, Phoenix is less than 30 minutes away, while restaurants, markets fishing, boating, and hiking are all within minutes. Visitors can opt for a short-term stay or book a year-round stay. The park's ample amenities keep visitors comfortable throughout their stay, regardless of the type of vacation you choose.
Threading the Needle
Weaver's Needle treats guests to the great outdoors without sacrificing comfort. Each site has a paved pad, with a maximum length of 40 feet. Each site has room for slideouts along with patios, and 200 of the sites are all-weather. Two hundred sites are full-hookup, and Wi-Fi is available at overnight sites. 
Once guests get settled in, they have plenty of options within the park. A heated swimming pool and spa give guests a great way to unwind after a long day of driving. Active travelers can hit one of the pickleball courts or slow things down at the horseshoe pits or boccceeball courts. There's also a billiard table.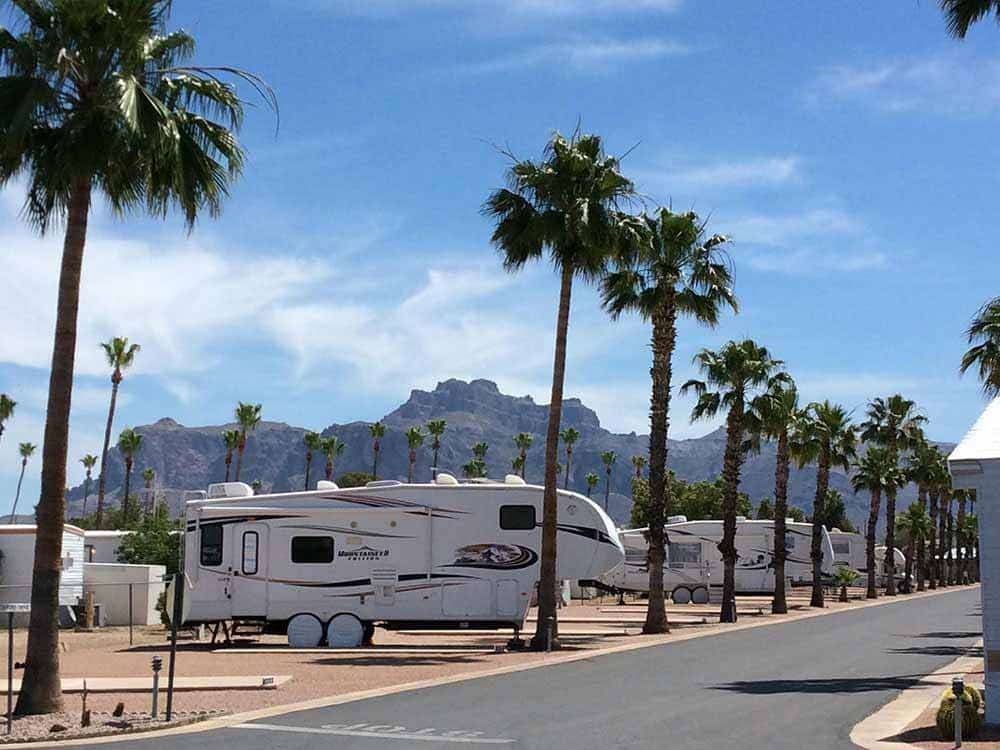 Hobbies and Pastimes
Weaver's Needle RV Resort gives guests lots of opportunities to pursue their interests. Learn new skills with painting classes, line dancing lessons, and ceramics and woodworking facilities. Participate in jam sessions or join the chorus to explore new musical horizons. 
Other activities like water aerobics, chair yoga, and the hiking club ensure that guests can get a good workout. Weaver's Needle RV Resort keeps guests active.
Apache Junction and Mesa
Nearby, Apache Junction and Mesa capture the imaginations of visitors. Beyond the stunning scenery and local lore are modern treasures ranging from a vibrant visual arts scene to delicious farm-to-table destinations. It's hard to resist the mysteries that seem to live in these hills.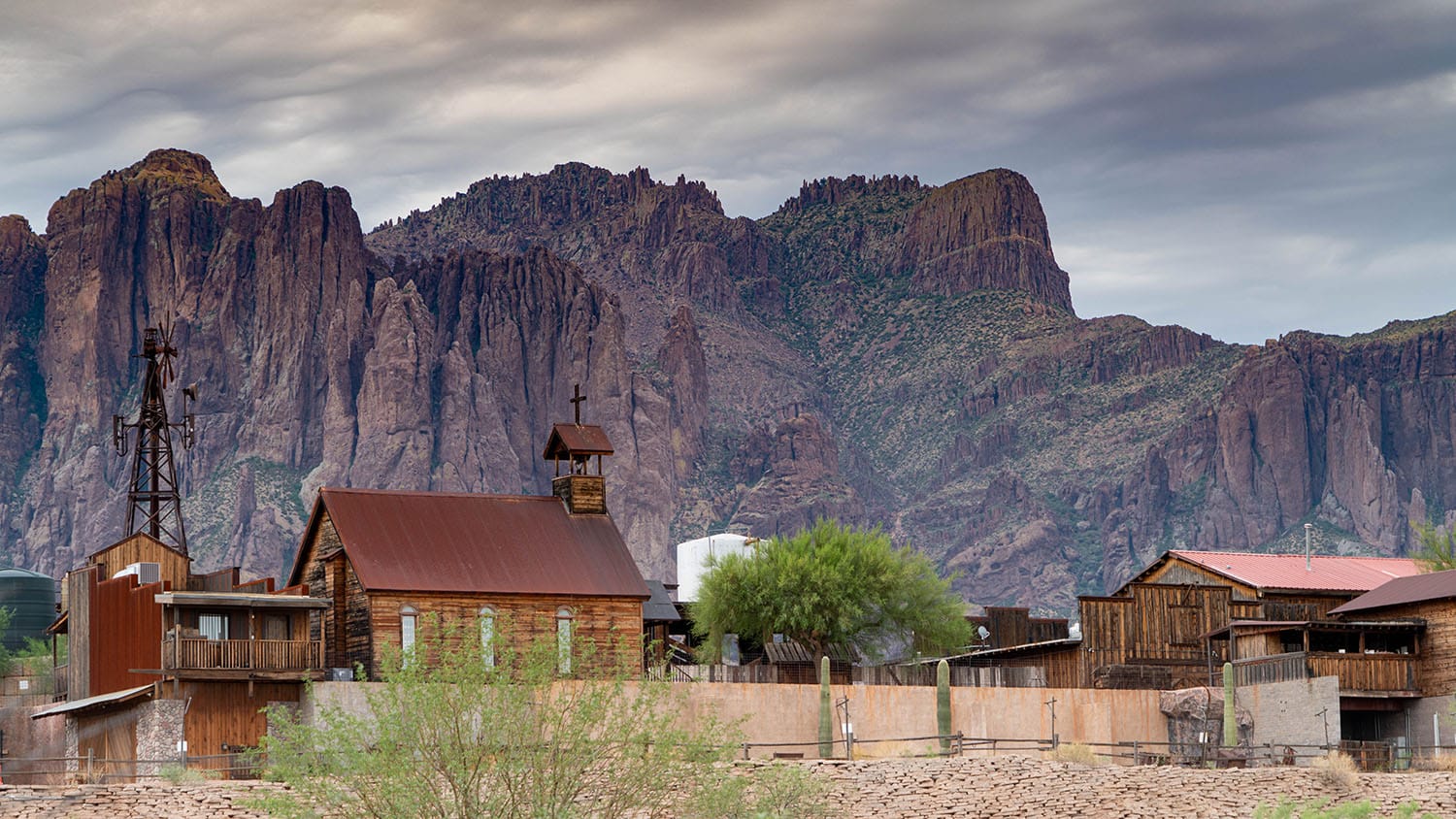 Stretching 40 miles from Apache Junction to the Theodore Roosevelt Dam, the legendary Apache Trail blends Wild West history with exciting outdoor recreation. Adventurers can wander through recreated boom towns, fishing in bountiful lakes, and admiring the vast Sonoran Desert from countless viewpoints. You'll also want to take a scenic steamboat ride on Canyon Lake and explore Native American cliff dwellings in Tonto National Forest.
In Apache Junction, Goldfield Ghost Town simulates life in the Old West with authentically constructed buildings and Western attractions.
In Mesa, a different trail winds through town. Boasting 11 agritourism stops, the Fresh Foodie Trail lets you sample local flavors at wineries, olive farms, urban gardens and more. Highlights include learning how to grow your produce at True Garden and feasting on Arizona-style barbecue at Jalapeno Bucks.
Water Recreation at Your Fingertips
Three lakes and two rivers just outside Mesa open the doors to boating, fishing and all sorts of watersports. Cast a line into Apache Lake, Saguaro Lake or Roosevelt Lake to catch largemouth bass, crappie and catfish. If you're after rainbow trout, flick your rod into Canyon Lake. Boat rentals are available at all three lakes, along with storage and camping facilities. Salt River is the closest river to town and winds through the Tonto National Forest, making it an excellent destination for kayaking and rafting. Tubing is popular as well, especially in the spring and summer months.
The Sonoran Desert has intrigued outdoor enthusiasts for centuries with its canyon-carved lakes, giant cacti and jagged mountains. Usery Mountain Regional Park is a fantastic spot to start your adventure with over 29 miles of trails for hiking, mountain biking and horseback riding. Don't forget your camera as these pathways end with panoramic views of the valley. Trails within Lost Dutchman State Park lead you into the heart of the Superstition Wilderness and Tonto National Forest, while routes in San Tan Mountain Regional Park promise sweeping vistas of the lower Sonoran Desert.
World-class Art Scene
Get to know the city's artsy side at the Mesa Arts Center, the largest arts and entertainment complex in the Southwest. You can catch a concert or comedy play at one of the state-of-the-art theatres or view works by renowned artists inside the Mesa Contemporary Arts Museum. The center hosts workshops too, so you can create paintings, pottery and more.
Phoenix Fun
With over 325 days of sunshine per year, the greater Phoenix area is well-deserving of its nickname, the "Valley of the Sun." The balmy region consists of more than 20 communities, including Phoenix, Scottsdale, Chandler, Tempe, Mesa and Glendale. Each enclave has a distinct flair, allowing you to choose your ideal getaway. From climbing rugged peaks and relaxing at luxurious spas to reliving Wild West history and exploring dozens of world-class museums, adventures in this part of the Sonoran Desert are incredibly eclectic and even more exciting.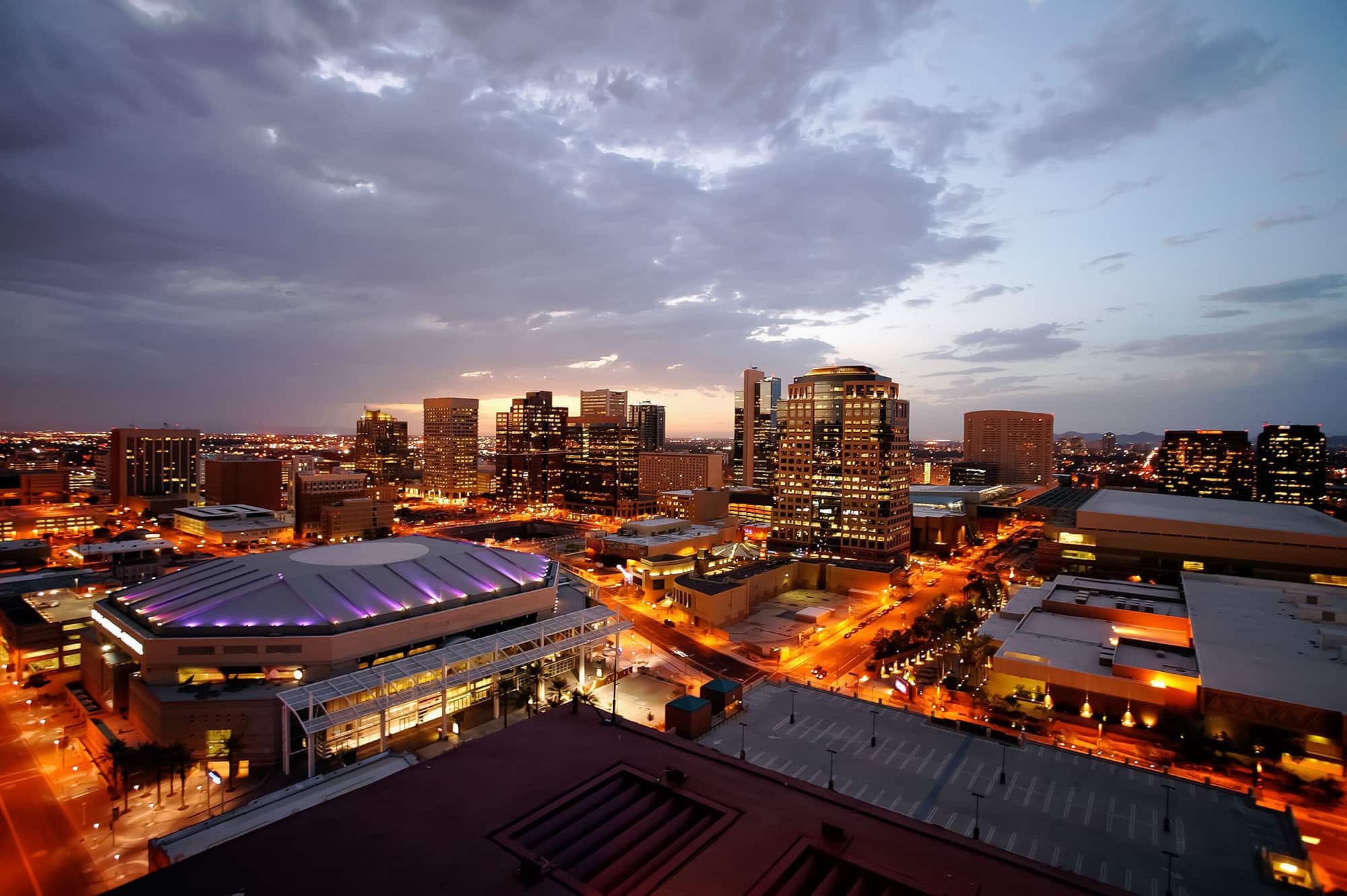 Luxury Lives
It doesn't take long for your stress to melt away here. Sumptuous wellness centers such as the Alvadora Spa and Aji Spa blend soothing treatments with tranquil desert settings so you can leave feeling refreshed and rejuvenated. The area is also home to almost 200 golf courses. Play a round while admiring desert landscapes at Troon North or We-Ko-Pa. Some clubs like Arizona Biltmore even have on-site spas so you can indulge in a therapeutic massage after finishing 18 holes. You can also sip your way through dozens of wineries that cultivate vintages around the Phoenix area. Head to the Verde Valley to swirl fine reds amidst spectacular canyons or go to the Sonoita/Elgin region which is encircled by a national forest. If you prefer to stay in town, pop in Peoria's Winery 101 to sample bottles from Gallifant Cellars and Southpaw Cellars.
Explore it all with a stay at Weaver's Needle RV Resort.
Source: Weaver's Needle RV Resort Leads Travelers to Arizona Adventure