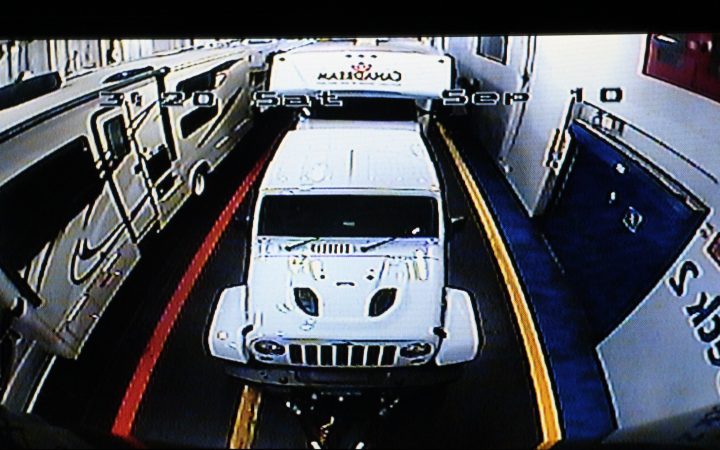 Over two decades ago an RV rear camera was considered somewhat of a luxury as well as a safety feature.  These consisted primarily of a wired black and white analog camera connected to a dash-mounted four or five-inch CRT display.  In addition to the obvious safety aspects these provided, they also aided the driver in more precise backing maneuvers and in the monitoring of any towed vehicles while traveling.
The makers and suppliers of these soon enhanced their offerings with full-color sets.  While this might have seemed purely cosmetic, it was not.  The addition of color to the display provided far more information to the viewer.  Backing into a campsite may look clear on a monochrome display when a short post blends in with similar-looking shaded area.  For example, green grass and a brown/beige post may fade into each other as their shade is similar.  This can be difficult to see on a B&W display.  However, in a like color scenario, the post can be easily seen and distinguished from the grass area.
Future years brought higher picture display resolutions and additional RV applications.  Side cameras became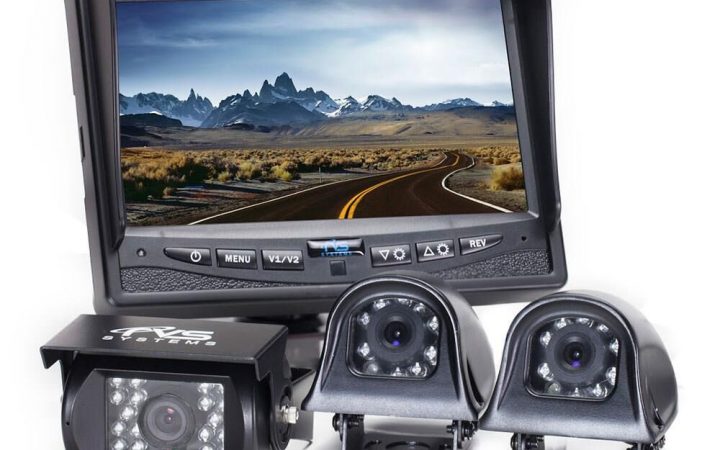 commonplace and provided some increase in safety by helping to eliminate some of the possible blind spots of close traffic.  However, side cameras on recreational vehicles have not replaced the traditional outside mirrors.  This is probably due to the much lower resolution of the display compared to that of the direct view provided by a mirror. Additionally, the CRT non-traditional location placement may also be a contributing factor.  However, recent automotive advances towards improving this technology has increased the screen resolution to an ultra-high definition.  Rearview display location(s) also more closely mimic the traditional placements in most cases.  There are expandable features that can be adapted to the electronic rear-view display systems in the future.  Those features include, but are not limited to, automatic distance adjustments, forward and rear dash cam duty, no rear seat view-blocking, adjustable night darkening, etc.  Hopefully, much of these advancements will also come to the recreational vehicle industry in the near future.
The coming years brought a flood of "Security Camera" applications that were found throughout many higher-tier RV offerings.  Much of this option seemed driven more by glitter than need.  Wireless systems were also introduced for use on trailers to tow vehicles and for the easier "Do it yourself" market.  While high resolutions may be lacking in some of these aftermarket products, all in all, they do a fairly good job.
Flash forward to today!  While the traditional "Back-up" camera is still a standard offering on many motor homes, new configurations and features are now available on some makes and models.   A combination of a multitude of digital cameras provides a "Bird's Eye" view of the vehicle.  From this you can view the entire space and anything near the perimeter of your RV.  This is a remarkable upgrade over the stand-alone standard backup camera system, albeit at a price.  Lane tracking and departure will also add new types of cameras when such features are introduced to the motor home market options list.
New automotive developments employing night vision cameras is just becoming available to the consumer market. These military-grade systems are capable of displaying the roadway ahead, traffic, additional objects, infrared projected people, and medium to large animals.  All of this displayed in 4K quality in an OLED (Ultra HD 3840 X 2160 Pixels) format.  The night vision application can prove beneficial for driving on dark nights or in foggy conditions day or night.  While such night vision systems are not available at this time on any motor homes, it is probably just a matter of time before they are.
Say, what about the motor home's "Self Parking"  feature?  Let's not go there yet!
Peter Mercer – With a Reflective View of the RV Camera

With a background in the designing and manufacturing of specialized automated industrial equipment, Peter Mercer writes about the full range of the RV travel experiences.