The movement for living small is rapidly growing.
As more people are moving into tiny homes to live year round, those living in colder climates are finding they have their own unique challenges that come with living in the cold.
One of the biggest issues they face is keeping their house safe during freezing temperatures.
The tanks and pipes for these homes are usually under the carriage and they are susceptible to freezing if the temperature gets low enough.
Because water expands as it freezes, if the pipes freeze they could burst.
Repairs are expensive and a hassle, and it also means going without water until everything is fixed.
The best way to protect your tiny home from freezing is to put a skirt on the base of it.
A skirt is a material that wraps around the base of the home, sealing off the undercarriage.
By enclosing the area under the home, it keeps the cold air out and allows you to warm up the enclosed air.
That's basically all skirting is, a way to close off the undercarriage of your tiny house so you can keep it warm enough to prevent it from freezing.
As for what material to use, because the tiny house market is such a custom industry there is a lot of different information out there and it can be hard to know what to pick.
There is an idea that you need to use a material with a high R-value to be able to effectively skirt your home. This is not necessarily true.
While it certainly doesn't hurt, you don't need a material with a high R-value because you don't need the undercarriage to be as a warm as your house. 
All you need is to keep it warm enough to stop your pipes from freezing.
A nice bonus from using skirting is that your floors will stay warmer. Most of the cold in a tiny home is coming up through the floor, so having a warmer undercarriage means reducing your heating costs and staying more comfortable.
If you have decided that you want to skirt your tiny home, the next decision to make is what materials to use.
Chances are if you live in a tiny house you are a seasoned DIYer, and there are no shortage of do it yourself options.
Rigid Foam Insulation

Using rigid foam insulation boards is one of the most popular choices for skirting a tiny house.
It's inexpensive, easy to cut and easy to install.
The biggest problem with foam insulation is that the panels are so lightweight that they can easily blow off unless you build extra reinforcement.
This is typically done by building a frame and then attaching the panels to it.
If you care about aesthetics you'll also need to put in some extra work because the insulation panels can be an eyesore on their own.
It's the type of project that is a lot of work up front, but if you are planning to spend years in one spot then you can just leave it up and not have to worry about it.
If you foresee yourself moving at any point in the near future, however, it would most likely mean leaving your frame and insulation behind as it would be too big and heavy to bring with you.
Plywood

Buying and cutting large sheets of plywood is another common option for skirting.
It's durable, fairly inexpensive and is available everywhere.
Because plywood is heavy, it also doesn't necessarily need a frame built for it.
There also isn't a lot of skill or tools required so it can be done by pretty much anyone.
A lot of home improvement stores will even cut your plywood for free provided the cuts are straight and simple. 
But like with the foam board, plywood can be unsightly as well.
Large panels of bare plywood that are leaning against your tiny home is not the look most people want.
To make it look seamless to your home, this too would require a frame to attach it to and paint and trim to make it look natural.
And because plywood is extremely heavy, it would only make sense to use if you never planned on moving.
The other thing to consider is that many tiny homes move as you walk through them, and if you have plywood mounted on the outside it can scratch and damage the exterior.
Hay Bales

For a lower cost option, a lot of people recommend using hay bales.
They are cheap, abundant and they work very well as insulation material.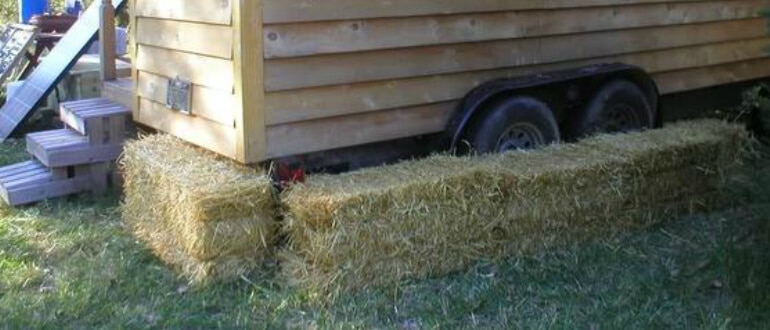 However, hay bales have 2 very large drawbacks.
First, they are a fire hazard.
Hay is extremely flammable and it doesn't take much to set it ablaze.
Second, hay also attracts vermin.
Using it could mean inviting a mouse infestation and all the issues that come with that.
Hay may be extremely inexpensive, but it's not worth putting your safety at risk.
Snow

By far the cheapest skirting material you could use is snow.
It's totally free, and by piling and packing snow around the base of the house it acts as an effective insulator.
But it only works if you have enough snow all winter long.
If the temperature hits freezing but there's no snow on the ground, you are going to be in trouble and without a lot of options.
It's the kind of solution that works well when everything is the best case scenario, but as we all know life rarely operates like that.
You don't want to find yourself having to build a makeshift skirting in the freezing cold in the dead of winter.
The money you save by using snow might not be worth the stress and hassle that comes with it.
Vinyl

The best value for price and performance is using vinyl as your skirting.
Vinyl skirting for your tiny home makes the most sense because of how lightweight and versatile it is.
It's easy to customize to fit your house and terrain, and if you ever plan on moving spots you can roll it up and take it with you.
There are a lot of varieties of skirting available, and it can be hard to know what is the best choice for your tiny house.
EZ Snap makes the process of buying vinyl skirting easy.
All you have to do is measure the length and height of your tiny home's undercarriage and order the appropriate kit from their website.
Installing EZ Snap is straightforward and can be done in as little as a day.
Not every home and situation is the same, and it's important to do as much research as you can before choosing a skirting for your tiny house.
What works for one person may not necessarily work for you.
Skirting is what will protect your home from freezing, so think of it as a long term investment that is worth your time and money.