Good Sam offers more ways to save for snowbirds motoring through the Sun Belt this winter. We've added the 70 parks to the Good Sam Network, giving you more value for your buck as you explore Southern destinations like New Orleans' French Quarter or the Houston Space Center.
Good Sam members save big with the 10 percent discount at Good Sam Campgrounds. While exploring, discover all of the campgrounds in the Good Sam Network. If you're not a member, joining is easy: Simply buy a membership at any Good Sam Campground or sign up online. Before making reservations, check each campground's seasonal information to determine availability.
Find the new Good Sam Parks in the following states:
---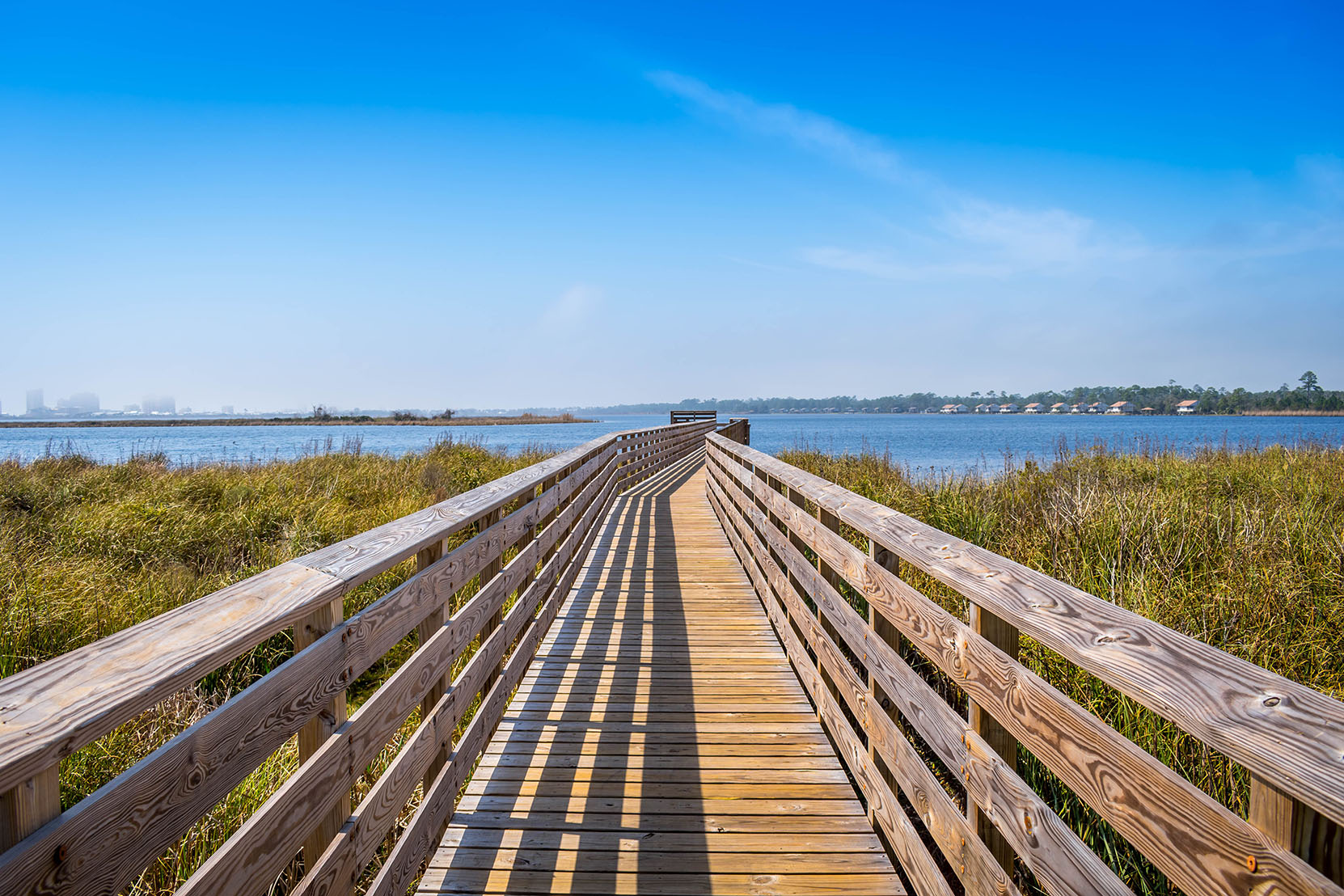 Alabama
This new RV park in Elberta puts guests close to beaches, restaurants, shopping, and waterparks. Free Wi-Fi, a new pool, showers, and laundry give the amenities they need for a great stay.
This resort sits next to a Tanger Outlet Mall, OWA amusement park, mini golf, and Tropical Falls indoor water park. Guests can enjoy a clubhouse, three swimming pools, three pickleball courts, and a dog park. Additionally, the park sits 10 miles from a Gulf Coast beach.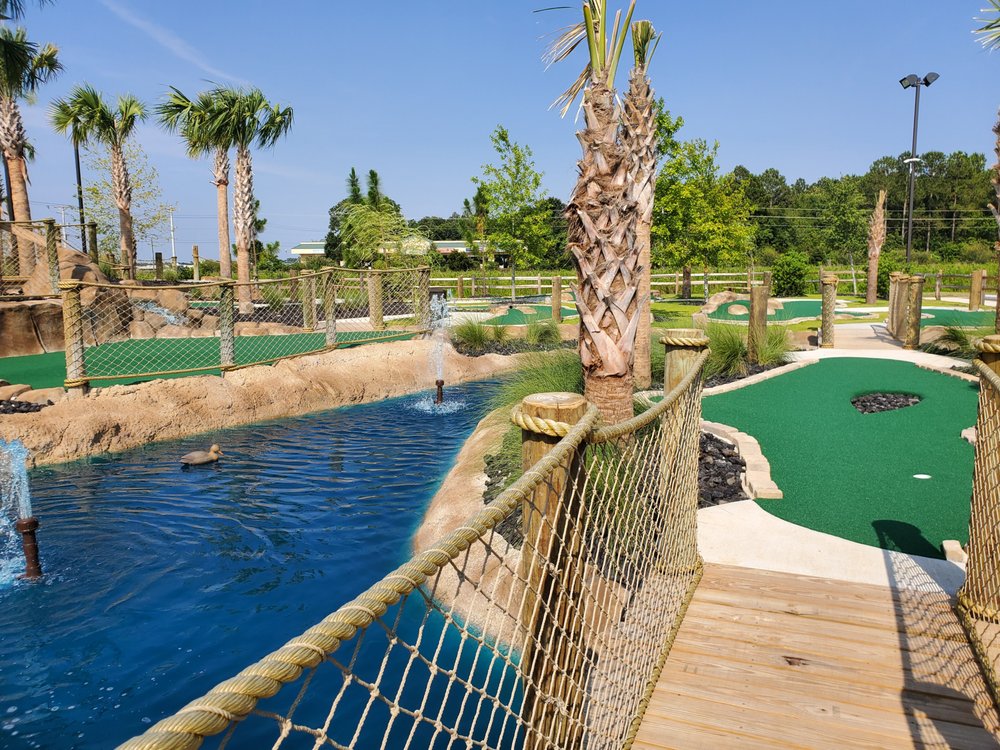 Gentle Gulf Coast breezes foster a relaxing atmosphere at this beautifully landscaped resort, with a pool, fishing lake, and great location. Restaurants, shopping, waterparks, and other attractions are close.
This brand-new park boasts large lots for sale and rent. Guests can use the showers, bathrooms, coin laundry, pool, and meeting area. Take advantage of the designated dog park and playground amid ample green spaces and trees.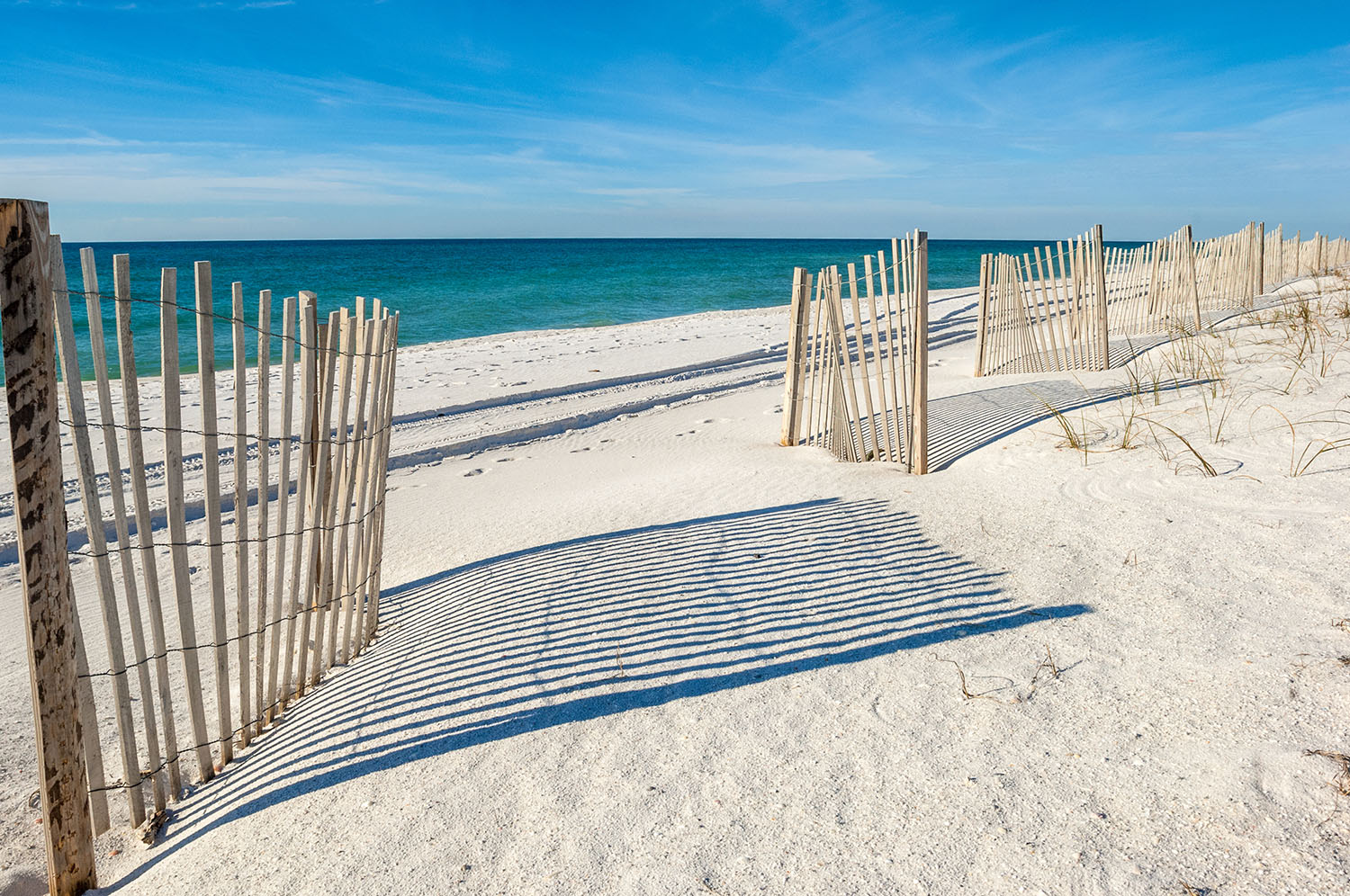 On a tree-rich peninsula by Wheeler Lake in northern Alabama, this park treats visitors to boating, fishing, and swimming. Also, there's a zipline course and cozy cabins.
Located on a working persimmon farm, this new RV park features sites big enough for slideouts. Indeed, some have concrete patios and grass. Close to Midland City, the park is only 20 minutes from Dothan, with its variety of restaurants and shopping.
Florida
This 55+ active lifestyle community is close to some of the Sunshine State's most beautiful landscapes, including beaches, springs, parks, and forests. In addition, the beautiful resort entices visitors to stay for a whole season, but folks can also stay for just one night as well.
Indulge in secluded camping in beautiful central Florida. Year-round local and fun events entertain visitors with food and fun. This can be a launchpad for trips to Daytona Beach and the Daytona International Speedway.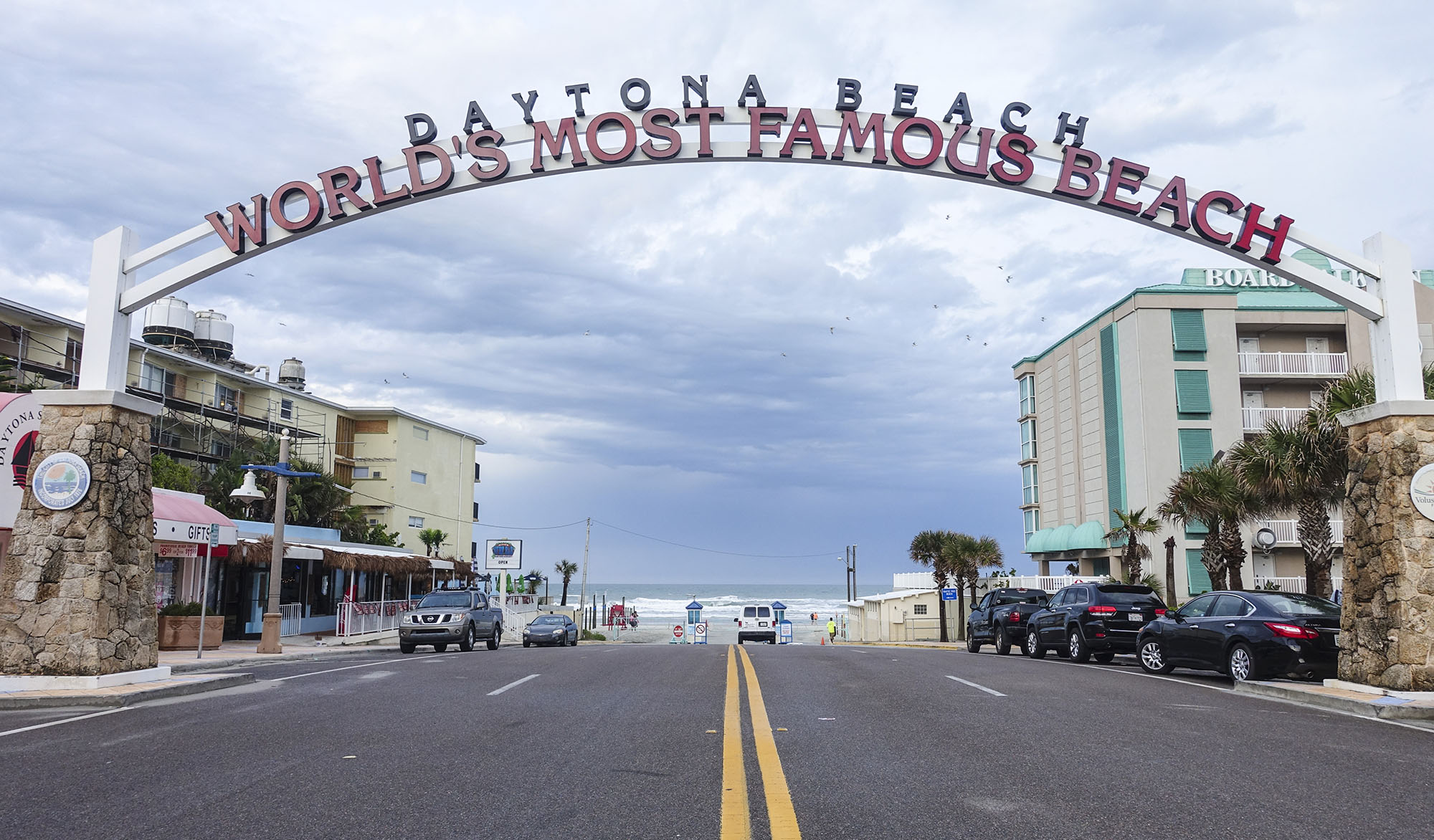 Paradise meets Southern charm in this hidden gem, with multiple spacious, shaded lots. From here, guests can take day trips to top Sunshine State destinations, including Gainesville, Crescent Beach, St. Augustine, Cedar Key, Daytona Beach, or Jacksonville.
Conveniently located off Interstate 75 near the Florida-Georgia state line, this park sits just 20 minutes from Wild Adventures Theme Park in Valdosta. Great for one-night or seasonal visitors, the park has a fishing lake, pizza and wing delivery, and cabins.
From this park, guests can reach some of Florida's top attractions, from the coasts to Disney World. Take day trips to fun spots or relax in a fun park.
In the quiet town of Madison, just off Interstate 10, Station RV Resort puts guests in the midst of antique shops, restaurants, and a community playhouse. The nearby Four Freedoms Trail leads hikers through lush environments.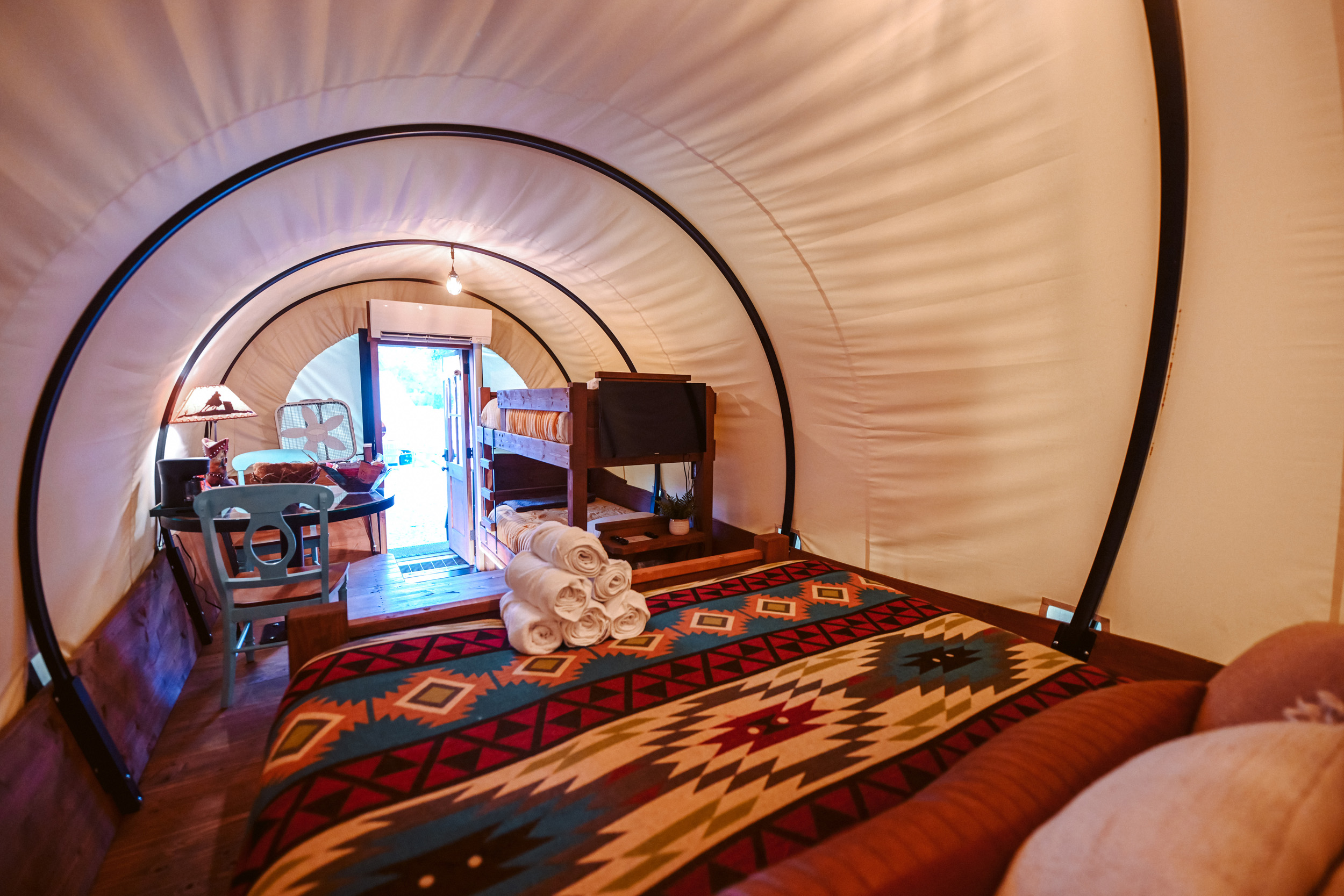 This top vacation destination on Florida's Panhandle combines luxurious amenities with fun and adventure. Families, locals, and snowbirds are welcome to this spot in the sun, just off Interstate 10 and 23 minutes from beautiful Navarre Beach. Rental cottages and covered wagons are available.
This resort offers 11 sites overlooking Ochlockonee Bay, with outstanding views of the water. Located in beautiful Panacea, this resort has been described as "paradise."
North of Tampa on Florida's Gulf Coast, this park boasts beautifully remodeled facilities, round-the-clock activities, and possibilities for lasting friendships. This is a great snowbird roost or year-round destination.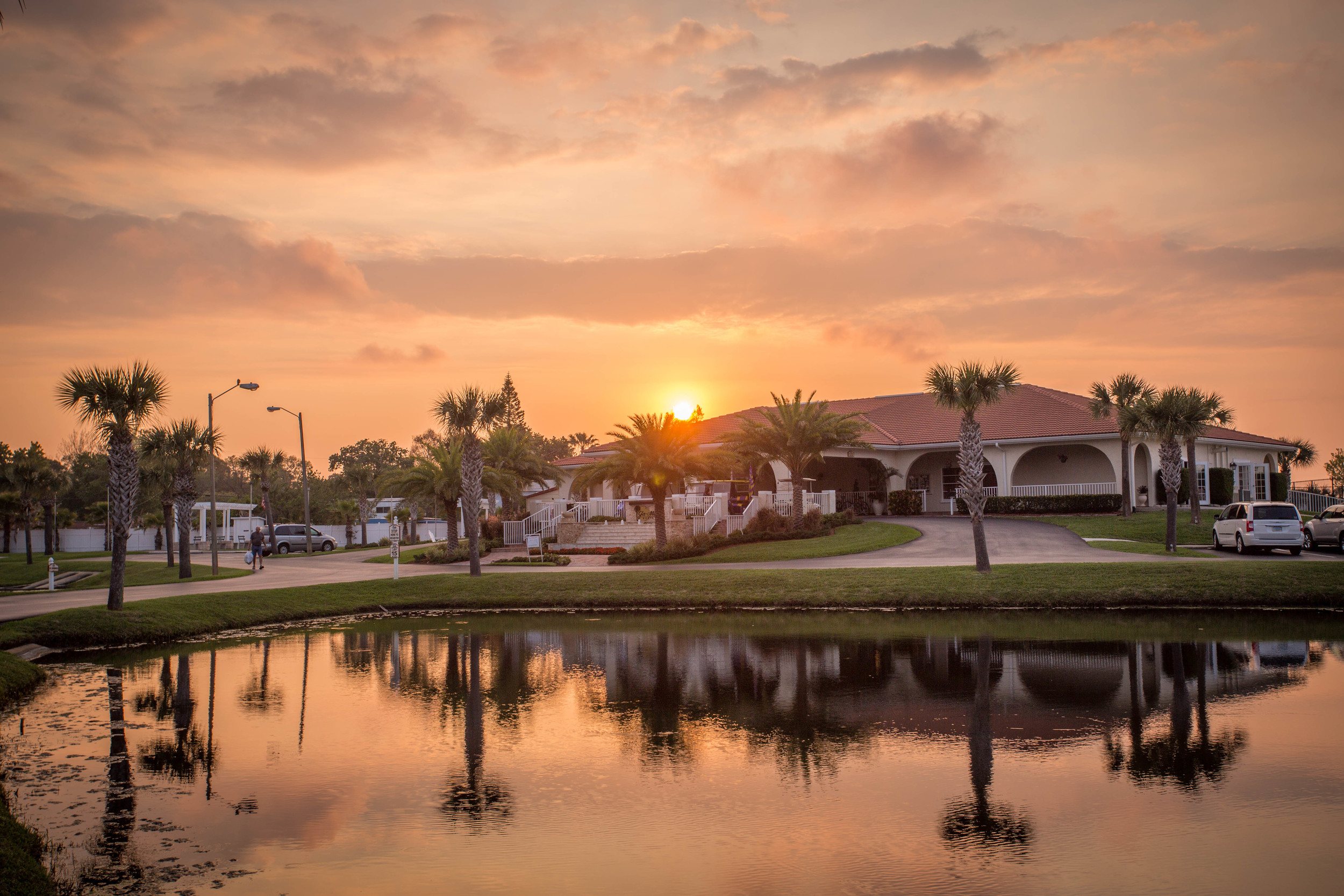 As part of the Florida Keys chain, Sugarloaf Key is connected to the mainland via the Overseas Highway. Visitors to this tropical paradise can go kayaking, snorkeling, beachcombing, or fishing.
Bask in charming island style in Tallahassee. Guests can explore miles of untouched landscapes, local attractions, and activities, including golfing, biking, hiking, and horseback riding. The big rig-friendly park has a pool, playground, showers, and Wi-Fi.
In the heart of Florida, this park is just 3.5 miles from Legoland and a day trip away from Orlando. Discover outstanding shopping, stellar dining, citrus groves, and several canal-connected lakes. Guests can relax or explore.
Georgia
Centrally located off Interstate 75, this park has renovated its bathhouse and laundry facility, and more improvements are underway. Anglers can drop lines in the 3.5-acre pond for catch-and-release action or take a dip in the swimming pool.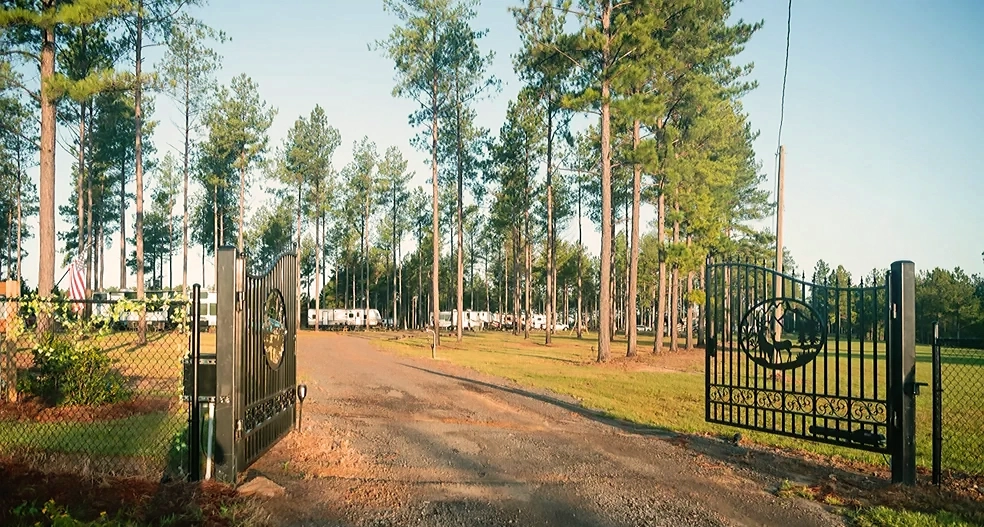 Nestled in a beautiful landscape, this park has a large, stocked pond that's ideal for fishing and kayaking. Fire pits and grills keep the fun going.
Overlooking Cloudland Canyon and Desoto Falls in northwest Georgia, Cloud Camp sits close to outstanding hiking and biking trails. Relax at camp or explore the scenic terrain. No RV? Guests can camp in one of the luxurious Airstream trailers.
In South Georgia, this park is the place "where to stay on the way." Located off Exit 62 on Interstate 75, the park has a security gate, full hookups, pull-through sites, a fenced dog park, fast Wi-Fi, and paved sites. LongHorn Steakhouse, Starbucks, Chick-fil-A, Panera Bread, Olive Garden, and more are all within walking distance.
Louisiana
With concrete pads and grassy areas, this neat and clean park is just minutes from Interstate 12 off Exit 19. Adjacent to the park, the Gator Park Sports Complex offers a wide range of recreation and exercise choices.

Twelve minutes from the French Quarter, this resort puts guests in the heart of the Big Easy's action. Guests can launch their watercraft on the Inner Harbor Navigational Channel that leads to Lake Pontchartrain.
Travelers can explore New Orleans and the surrounding area from this pet-friendly, amenity-filled resort. Relax in the heated pool, sip a cocktail at the swim-up bar, or play mini-golf or pickleball. It's great for snowbirds and groups.
Enjoy the renovations in this park off Interstate 10. In addition to new restrooms and showers, there's a newly redone pool, a new game room with a pool table, and a table shuffleboard. Swim in the newly redone pool when you're not lounging in the wide sites, some of which are paved. The park's ample green spaces and large oak shade trees complete the picture.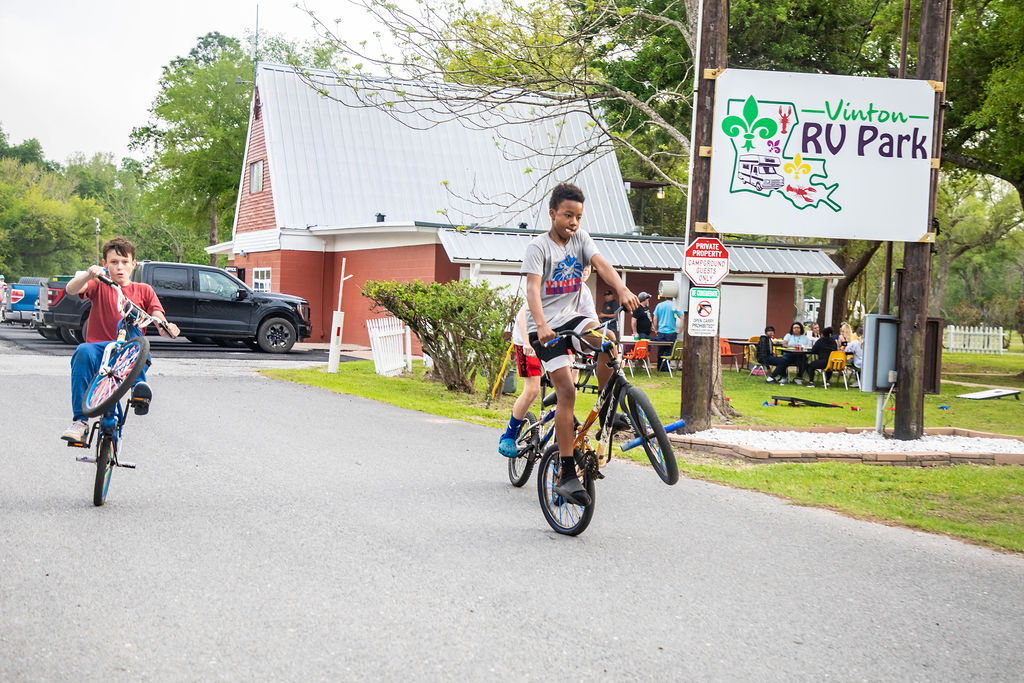 Mississippi
Located one mile off U.S. Highway 45, this peaceful RV park has concrete pads and lots of room for slideouts. Walk your pets on the large expanse of maintained green grass with flowers. Also, the park has a pavilion and hiking trails.
North Carolina
Located northwest of the Outer Banks Peninsula, this KOA Resort sits on the Currituck Sound with a half-mile of private coastline, plus fishing piers and boat ramp access. Amenities include laundry facilities, clean bathrooms with hot water, Wi-Fi, a KOA store, and playgrounds.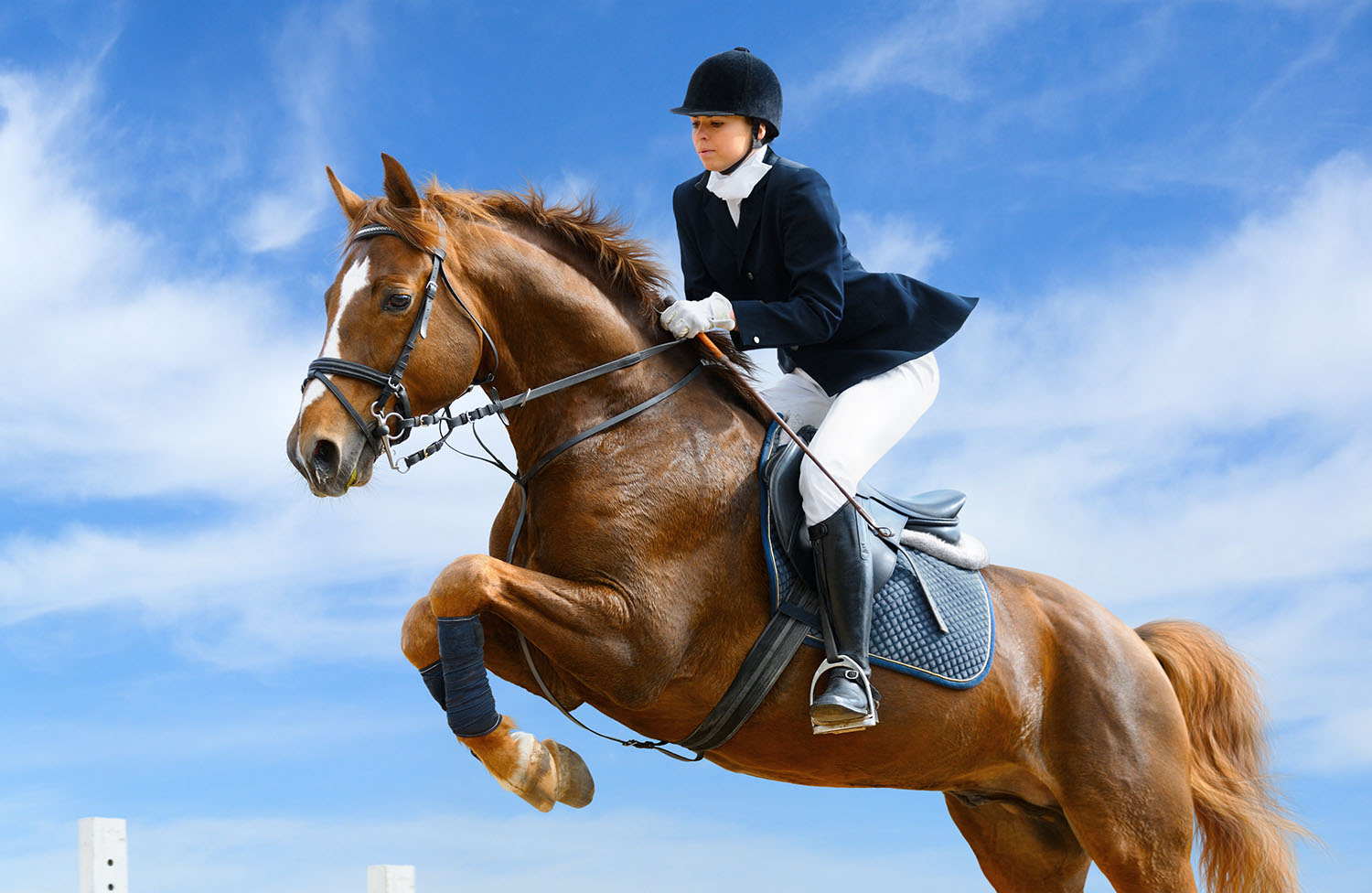 Embark on Blue Ridge Adventures from this resort, which is part of the Tryon International Equestrian Center. The pet-friendly resort includes seven restaurants and bars, shopping, live music, golf, a pool, fitness amenities, and year-round events for all ages.
This newly renovated Blue Ridge retreat sits amid spring flowers, summer waterfalls, glorious fall colors, and fun winter snow sports. Hike, bike, fish, or just wander the woods on 78 acres.
This new RV resort is centered around family. The park is built on family farmland with your brood in mind, with a playground, ponds, a beach, big sites, and lots of music and entertainment to keep the party going.
South Carolina
This new park welcomes travelers motoring along Interstate 95 or the many state highways near Latta. With large pull-through sites and friendly staff, this park invites campers to take a break.
Texas
Just off Interstate 35 in Alvarado, this park boasts paved roads and sites, patios, a playground, and a sparkling pool and spa. Dogs can cavort in the dog park while their humans hone their golf skills on the putting green.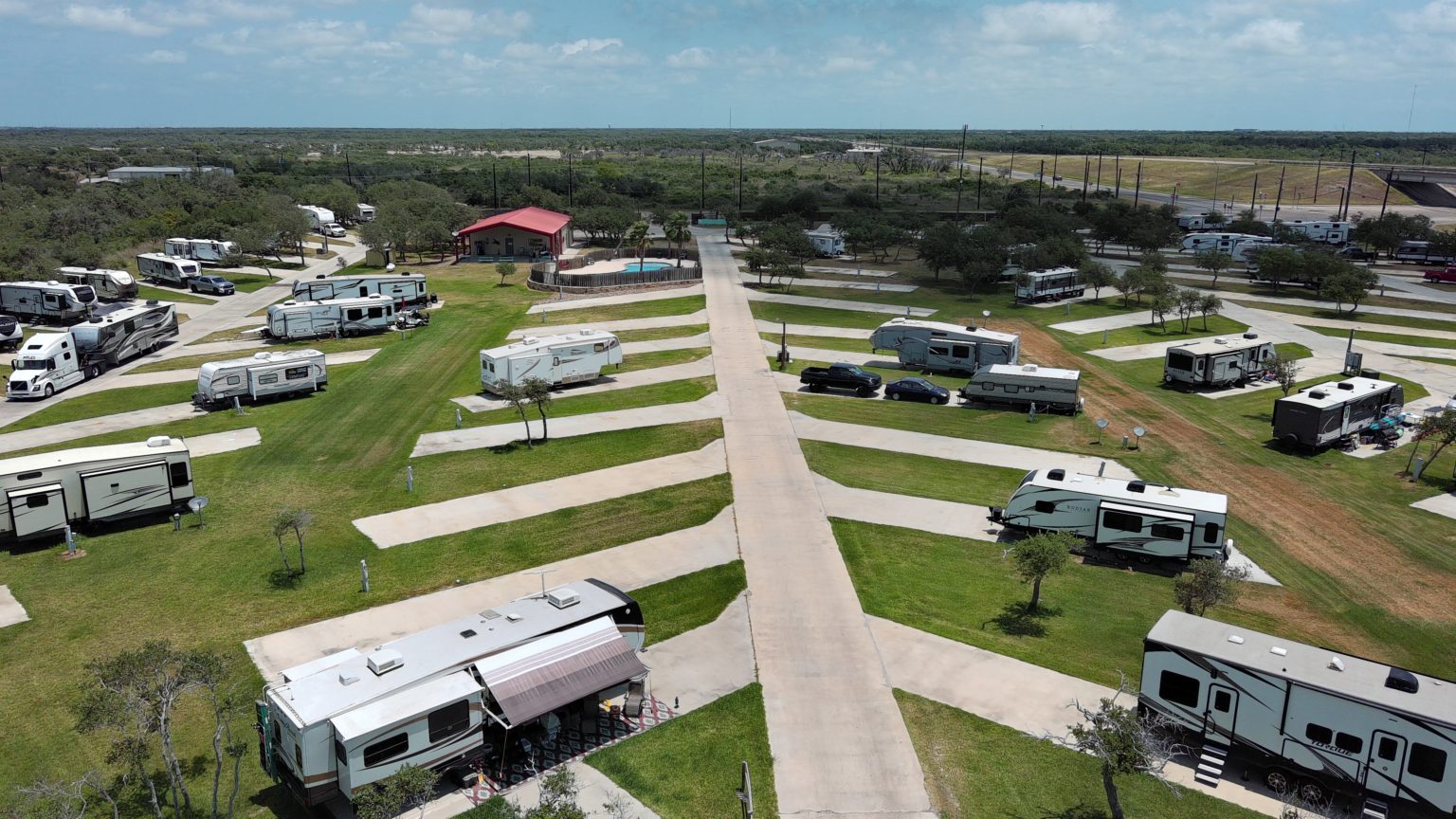 Minutes from Redfish Bay, this resort appeals to travelers looking for nearby fishing, boating, and beaches. Prefer to stay at the resort? Accordingly, go fishing in the pond or swimming in the sparkling pool.
In this vibrant community, guests can use the extra-large pull-through concrete sites with plenty of room for slideouts. Located just off Interstate 20, Sundance RV Park also has a dog park, clean restrooms, and laundry facilities.
This is the newest RV campground in Bandera — the Cowboy Capital of the World. Elm Acres has sparkling amenities in one central clubhouse. The friendly staff helps guests pursue their interests, whether it's working, playing, or relaxing.
This all-age luxury resort in Brownsville lies only 17 miles from SpaceX and South Padre Island Beaches. If you want to go to Mexico, the park is only seven miles from the Matamoros Access Point. Visitors discover resort-style amenities and warm, sunny winters in this clean, safe environment.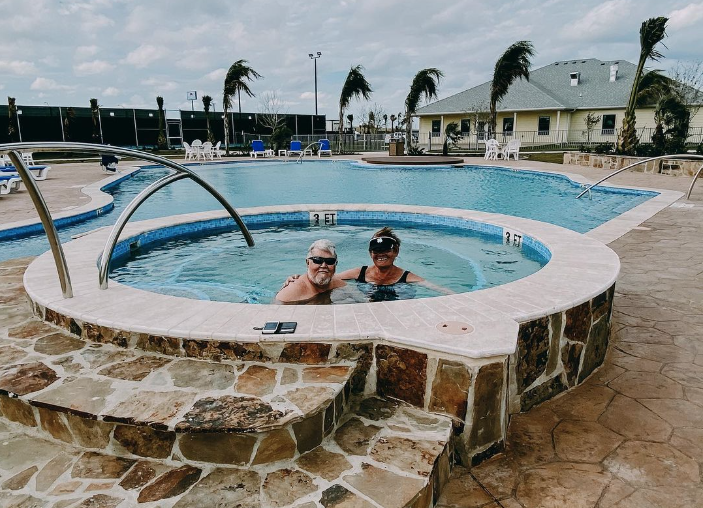 The newest RV park in Cleveland is just a short distance from Interstate 69. Set amid tall trees and lush landscaping, the park's large concrete sites and surrounding pavement give guests plenty of room for turning and parking their RVs. There are nice, clean, private restrooms, showers, and a laundry room. Enjoy catch-and-release fishing and basketball.
Visitors can escape to a place that welcomes families, retirees, singles, and winter Texans. Amenities include free fiber optic Wi-Fi, firepits, cable TV, and playgrounds. Garner State Park and the Frio River — both accessible to the public — are minutes away.
On 14 acres just two miles north of Garner State Park, Camp Cold Springs has 450 feet of Fio River Frontage. The newly renovated campground is the perfect spot to experience this beautiful waterway.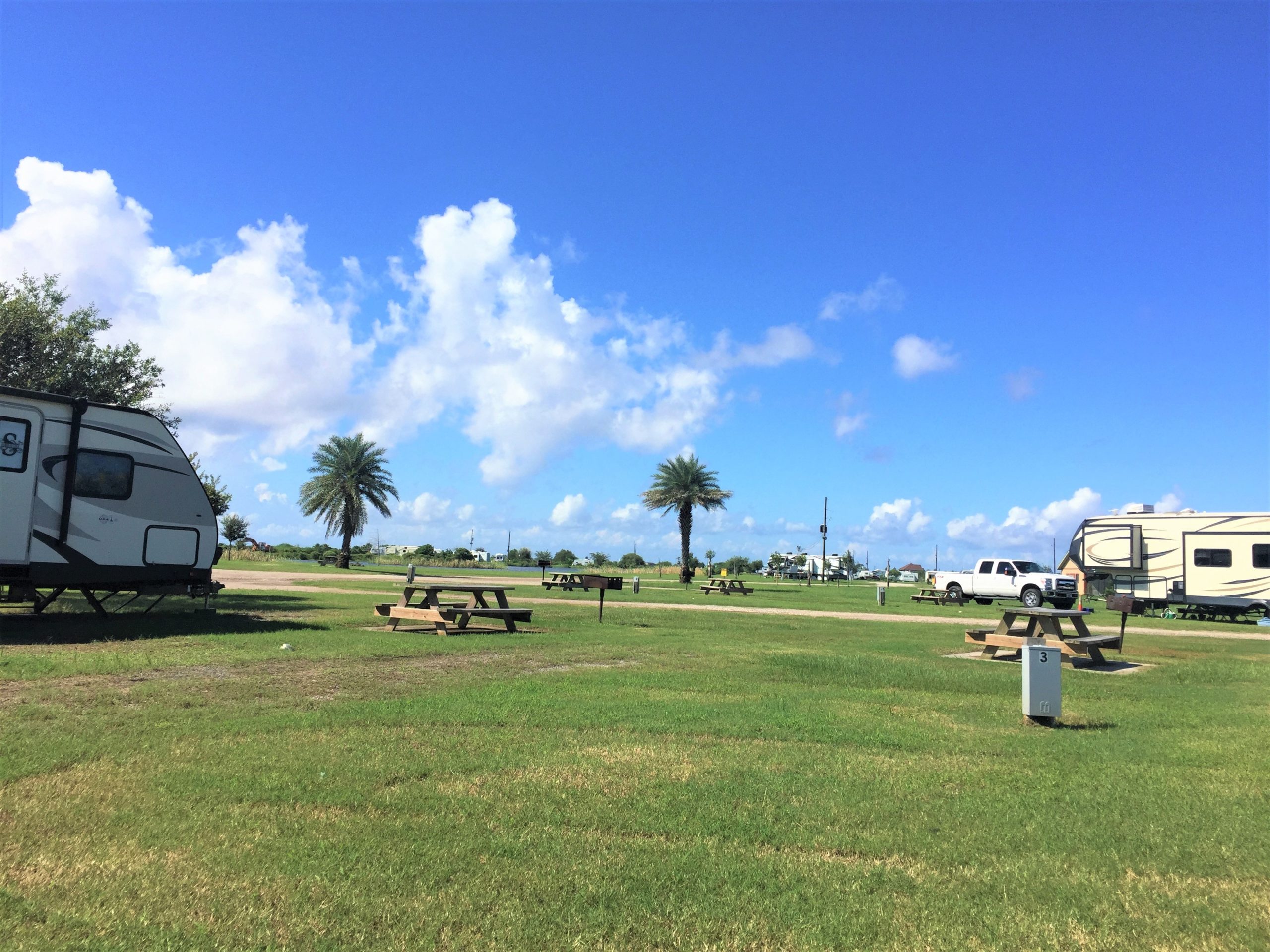 Located only a quarter-mile from Crystal Beach on the Bolivar Peninsula, this park offers plenty of local year-round activities, including the famous Jeep Weekend on Crystal Beach. Supersites for big rigs give campers lots of elbow room.
Nestled on a ridge, the resort dishes out gorgeous views of the valley below. Relax in the sparkling pool and enjoy the scenery, or hit one of the local breweries or wineries to sample authentic Hill Country flavors.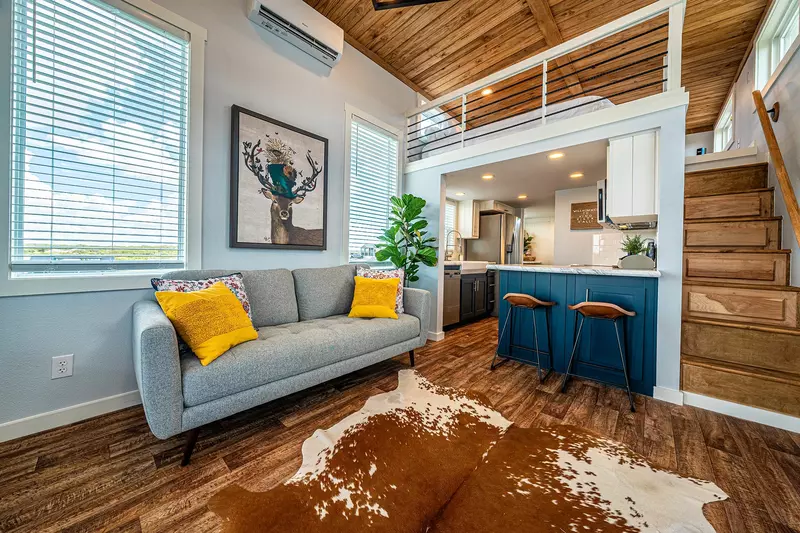 This one-of-a-kind RV resort and tiny home community is new. Relax in the multi-million dollar clubhouse or take a dip in two gorgeous pools with incredible views.
This Texas Hill Country RV hideaway treats guests to high-tech features, including gigabit Wi-Fi and EV charging, without losing its connection with nature. Nearby, historic Fredericksburg entices with local wineries and attractions.
On the Gulf of Mexico between Surfside Beach and Galveston, Blue Water RV Resort offers the ultimate coastal camping experience. The upscale resort offers a private boat ramp, fishing docks, a sparkling swimming pool, and a beautiful clubhouse.
Nestled on the beaches of Galveston Island, Stella Mare RV Resort gives guests the coastal vacation they've always dreamt about. A heated pool, splash pad, and soon-to-come tiki bar complete the picture. Take advantage of pull-through and back-in RV sites along with beachfront vacation home rentals.
Access to the beach makes this park a vacation star. Take your ATV, UTV, or golf cart to the shore on a concrete trail. Hang out on the upper decks and soak in sweeping views of the Gulf of Mexico, or take a dip in the heated pool year-round.
Enjoy a Texas Hill Country vibe in Texas's largest city. Indeed, This luxury resort is a stylish, amenity-laden destination 10 miles from downtown Houston.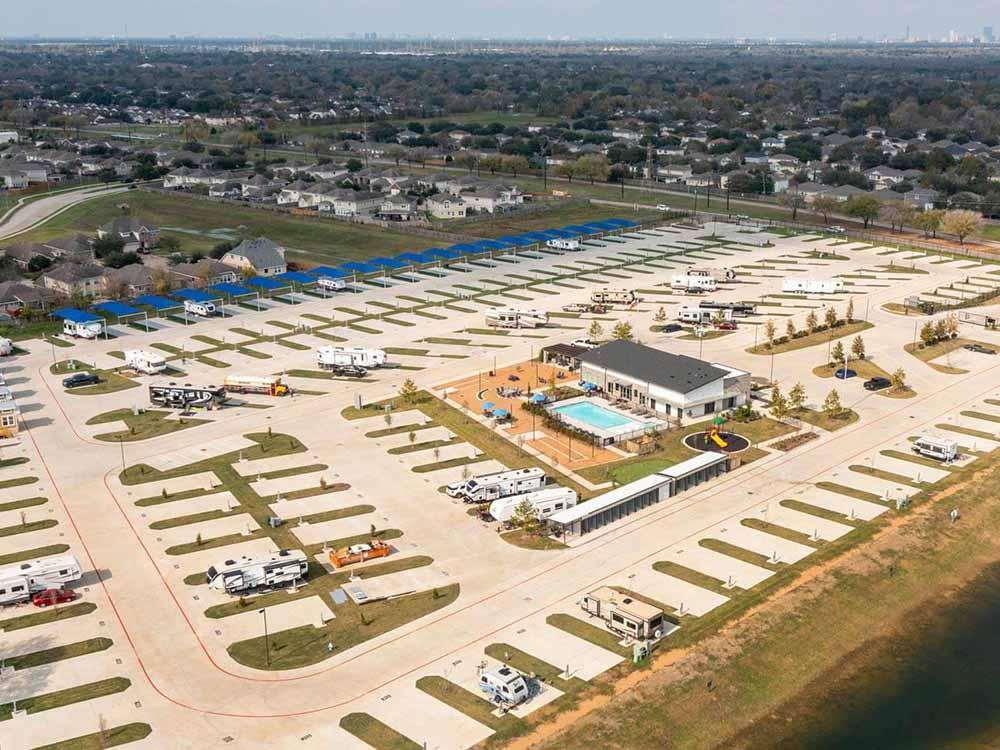 Houston's newest luxury Class A resort is a clean, safe community with great amenities 10 miles from downtown Houston, NRG Stadium, and the Texas Medical Center. The resort also is close to some of the area's finest dining and top attractions.
Guests at Morgan Shady RV Park can camp right next to the Llano River with its clear, cool water. Swimming and kayaking are on the menu, along with great views of Lovers Leap, a craggy cliff that purportedly is the spot where a pair of star-crossed lovers took a fateful jump. Also nearby are great eateries and South Llano River State Park.
Traveling through Texas on Interstate 10? In that case, this is the perfect Lone Star oasis for relaxing and refueling before continuing your desert journey.
Set in one of the Lone Star State's most scenic regions, this campground boasts nature trails and picnic areas on the calming waters of the Guadalupe River. The campground is close to shopping, wineries, museums, and fine dining.
Guests here can participate in fishing and water activities on Lake Livingston and two bordering creeks: Kickapoo and Rocky Creek. Engage in bird and wildlife watching, or simply kickback at the pool, near firepits, or in spacious RV sites and cabins.
This brand-new gated resort boasts 80 paved sites and 100 RV and boasts storage spaces. The wide paved roads that run through this resort give guests plenty of room to access sites. Great laundry facilities and high-speed Wi-Fi ensure that you feel at home. Don't let the quiet country setting fool you: there are plenty of shops and restaurants nearby.
Lots of amenities are available in this resort, from pickleball courts to a beautiful pool. In addition the surrounding greenbelt and hay meadows contribute to a beautiful environment. Convenience is key here, and visitors will have lots of resources during their stay.
This new luxury RV resort has a long list of amenities, including a pool, spa, pickleball court, dog parks, and washing station. Visitors also can choose from multiple laundry stations. An onsite restaurant gives visitors another reason to stay at the resort.
Discover an oasis on this barrier island on the Gulf of Mexico. Indeed, guests who stay here are a short distance from fishing, beautiful beaches, bird watching, boating, entertainment, and more. Amenities include heated saltwater pools and hot tubs, a golf cart rental, an event center, and a dog park.
This RV resort at the seaside of Port Lavaca has a state-of-the-art private fishing lake, swimming pool, hot tub, and large sites. The luxury resort has affordable rates with sites up to 80 feet. Additionally, lakeside sites and double-wide sites are available.
In a beautiful country setting on the Lake Lavon Peninsula, this resort features a security gate with cameras, large sites, fiber optic internet, and laundry facilities. Take advantage of the four-acre wooded park with trails, fire pits, grills, and outdoor seating areas. A dog park ensures that canines get the exercise they need.
The newest RV Resort in San Marcos sits off Interstate 35 between Austin and San Antonio. The resort is surrounded by lakes, rivers, caves, and the beautiful and historic downtown San Marcos. Guests can enjoy the resort's pickleball courts, pool, rec hall, bocce ball, volleyball, and more.

Get back to nature at a resort that offers primitive camping with river access. Visitors can pitch their tents on the banks of Rebecca Creek in the Texas Hill Country, with fire pits, picnic tables, and beautiful views. Enjoy covered picnic table sites with water and electricity. Travelers also can reserve a glamping tent that sleeps up to four.
This brand-new RV resort in Victoria has a quiet country feel. However, it is close to the town, with great restaurants and shops. Additionally, Guests can fish and swim on the lake or take advantage of the park's numerous amenities, including a business center. All new paved sites and roads make it easy to get around.
This family-owned and operated RV park offers a clean, safe place to camp on 58 acres of scenic Texas countryside. Moreover, the premium lodging found in RV sites and glamping accommodations gives guests a chance to rest, relax, and revive. The park's friendly team welcomes guests for a night/week/or extended stay.
Sitting on Interstate 10, between Houston and San Antonio, Iron Horse cools off guests with an adult-only pool featuring a spa, slide, and waterfall. The Lazy River is fun for the whole family, and guests can enjoy fire pits, grills, and Texas-style entertainment.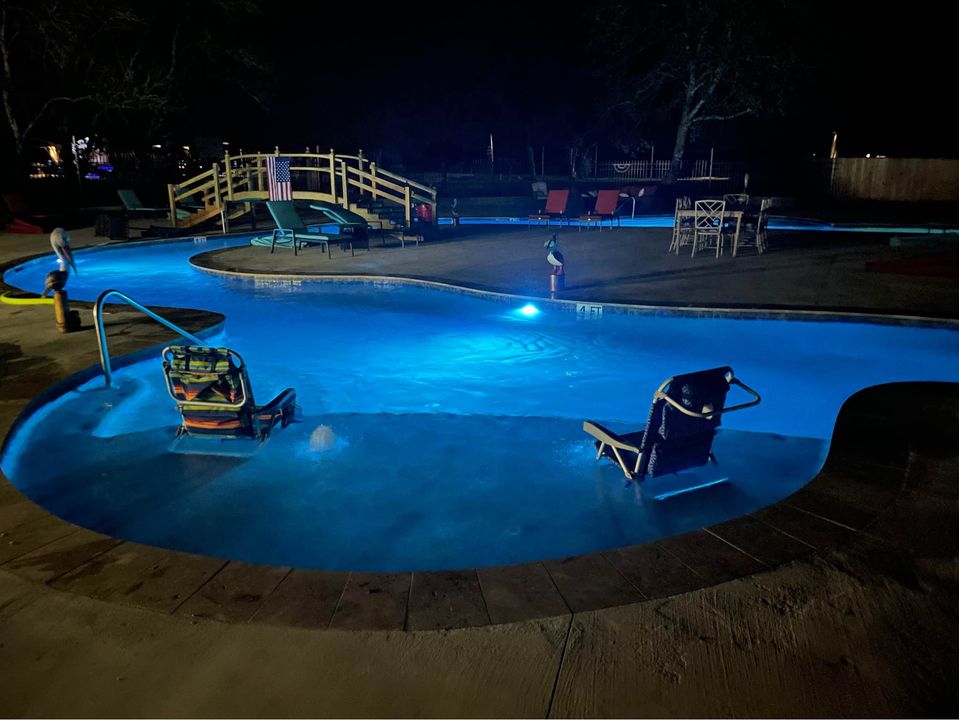 Forty miles west of Houston, this beautifully landscaped park sits in a country setting close to Interstate 10 at Exit 689. The park is big rig friendly, with large, level, pull-through sites, paved roads, free Wi-Fi, propane, and a convenience store and cabins. Take advantage of the RV inspections and mobile service onsite.
Winter Texans will enjoy the area's mild winters along with the park's many activities. A sparkling pool and spa, along with a rec hall and dancing, cards, and shuffleboard, make this an excellent spot. The resort also sells homes in its gated community.
Formerly known as RV Village Wharton, Jetstream Resorts has expanded the sites and improved the amenities to create a safe, clean, and happy community with a "resort-style vibe." Relax in the beer garden or swim in the pool.
Located 70 miles north of downtown Dallas, this RV park has Wi-Fi, room for slide-outs, fishing, and a community fire pit. Restrooms and showers, along with trash service, make this a pleasant place to camp during your Texas trip.
Whitesboro RV Resort sits just off Highway 82 at Exit 622, conveniently located minutes from Gainesville, Denton, and Sherman. Nearby attractions include Lake Texoma, the Red River, wineries, lavender and wildberry farms, and golf courses. Adding to the fun, equestrian farms cater to horse lovers.
Source: Snowbird Escapes: 70 New Sun Belt Good Sam Campgrounds